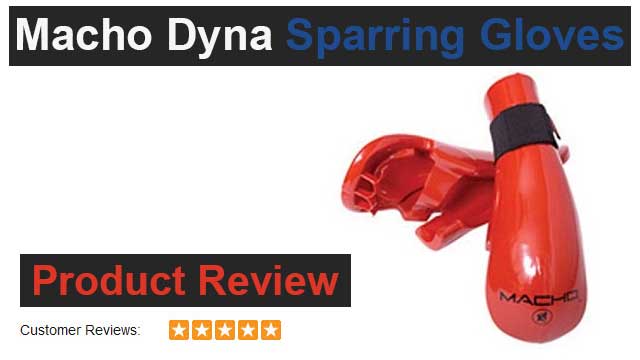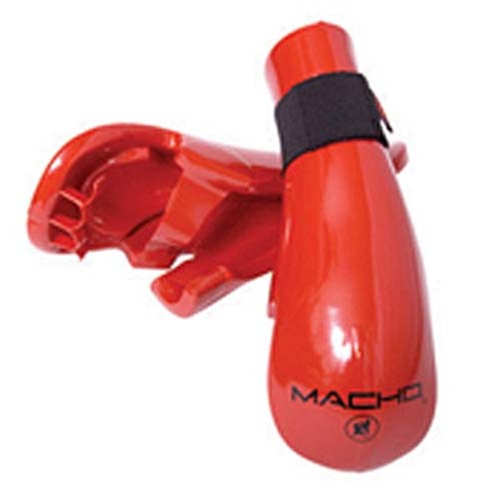 The Macho Dyna Sparring Gloves are an entry level vinyl dipped foam martial arts arts sparring glove. They are basically the industry standard on what most gloves of that type have been based.
There are many similar designs from other Brands such as the ProForce Lightning Sparring Gloves, but none are quite as good as the Macho Dyna.
From our experience the Dyna gloves are just a step above in quality of workmanship and overall feel then any of the others on the market, at the time of this article.
It's not readily apparent from just looking at them, you have to feel them to understand the difference. The foam and vinyl combination feels softer and more flexible, which makes the gloves more comfortable on your hands. This is very evident along the edges and ridges, many of the competing gloves are somewhat hard and much more rigid then the Macho Dyna and it makes them just feel harder and less comfortable.
The strapping is very good, the elastic should hold up for the life of the glove, giving you a secure fit every time you put it on.
Your hand fits in the glove and is held in place by reinforced vinyl straps and a plastic finger grip, that allow the glove to be used for both open and closed hand techniques effectively.
It is decorated with the Macho logo on the front of the glove and a tag that hangs off the strap.
Ranging in sizes from Child X-Small all the way up to XX-Large there is a size to fit just about any person out there.
There is a wide range of colors that you can choose from as well:
White
Black
Blue
Red
Pink
We are very confident in saying that you will be happy with the quality and performance of these gloves. Pair these up with a set of Dyna Kicks and a Dyna Headgear you will have a great low cost sparring gear set.
You can pick up a pair of the Macho Dyna Sparring Gloves over at Martial Arts Equipment Direct at our everyday low price.