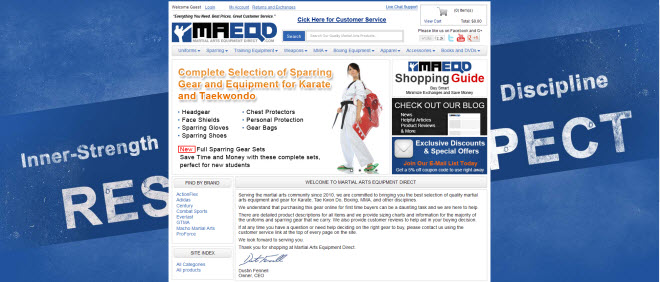 Right before the holiday season we moved Martial Arts Equipment Direct over to a new platform, updated the design, and gave it a new shorter domain name.
The store is now located at http://www.maeqd.com
We are excited about this move as it will allow us to offer some new products and gives us the ability to create product bundles and sets. We have started this by offering sparring gear sets which can be found here.
New Vendors and New Products
We are also taking this opportunity to expand our product selection by working with some new vendors.
We now have direct relationships with the following brands and manufactures.
Adidas – Through Budo Mart America
Century Martial Arts
Combat Sports International
GTMA – Golden Tiger Martial Arts
Macho Martial Arts
ProForce – Through AWMA
Over the next few weeks you will start to see some new items become available so please check back often, and if you are looking for anything specific that we do not carry please let us know and we can try and source it for you.
New Payment Options
Part of this update was to provide a better shopping experience for our customers and part of that experience is giving you more ways to pay.
We have added Check out by Amazon to our payment options so anyone with an Amazon account can now pay on our site using Amazon's payment system.
(For those that did not know, we also have many of the items we sell available on the Amazon Marketplace as well, you can check out the full selection at www.amazon.com/shops/maeqd)
We also have plans to add e-checks as well for those they do not have a CC or Debit Card to use online, but that is still a little ways out.
We know many of you would like to use PayPal. Unfortunately, PayPal is a non option for us right now because we sell martial arts weapons and they do not allow payments for those type of products. Until our shopping cart software can support disabling Paypal as a payment option when weapons are ordered we can not use them, but we are working on getting them to add in that feature.
Better Category Filters
We have added much better filtering capabilities to the categories. Filters have been set up for the uniform and sparring gear categories as a start. You can now filter by Brand, Color, and Size to narrow down the choices to only what you need.
Social Interaction
For 2013 we plan on being more active in social media and posting more to Facebook, Twitter, and our blog so keep a look out for these post. We will be posting discounts, sales, and new product announcements from time to time, but for the most part we plan on keeping this content educational, entertaining, and interesting and we hope you enjoy it.
Here's to a new year and an new Martial Arts Equipment Direct, please let us know what you think in the comments section below.